7 Days To Die Server Hosting
Servers You Can Afford!
We are a server hosting and rental company focused on 7 Days to Die.
Established in 2020, we have served more than 9000 customers with our dedicated servers.
7D2D.net is a brand of Supercraft.
* the limit applies only to RWG maps
If you are building a large community server with Botman, CSMM, ServerTools and similar solutions please Contact us.
Server Mods Supported
as 1-Click Setup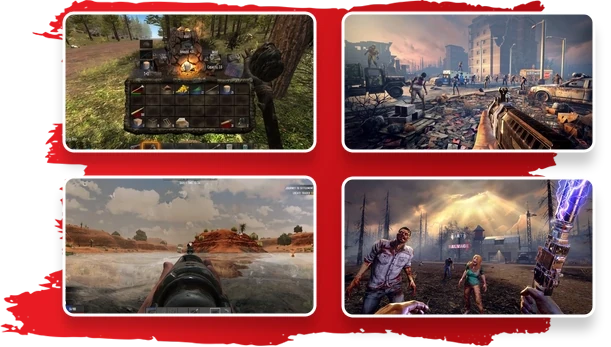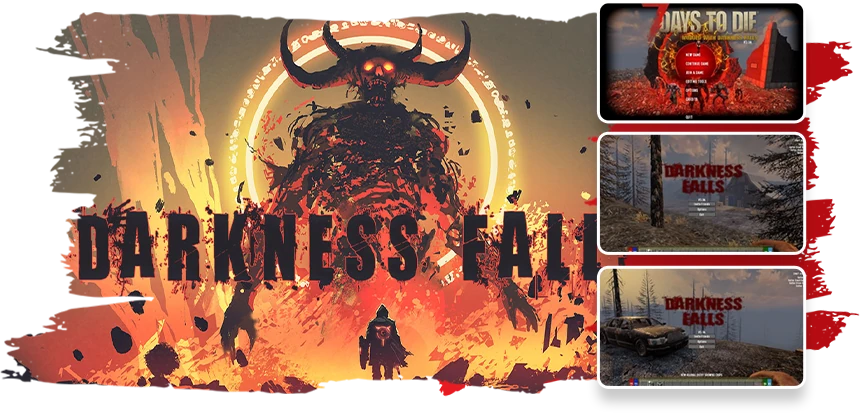 ModPack
War3zuk ModPack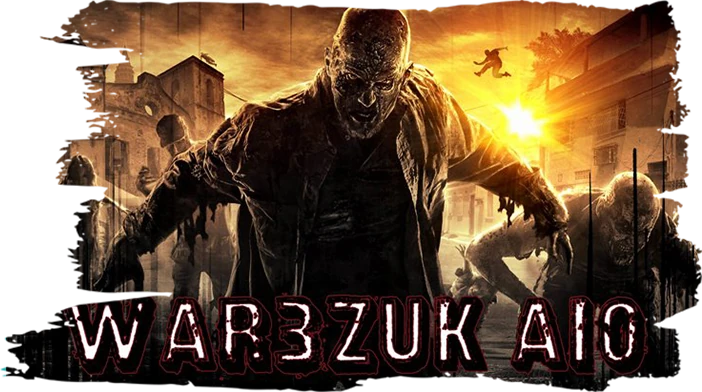 Other overhaul mods available: Apocalypse Now, Rebirth, Age Of Oblivion, Sorcery, Sorcery with Darkness Falls and Undead Legacy.
7 Days To Die
Dedicated Server Hosting Rental
No BS 7DTD server hosting. Custom-built for 7DTD.
Extremely Affordable Server Hosting That Rocks
1-Click instant setup. No coding and no file editing required.
FTP, Telnet and 7D2D RAT support. Low ping. Instant setup.
Great support. We are new and we really care!
No contract - no minimum terms.
7-days money back guarantee.
Perfect option for Noobs to start a dedicated server!

Host with us.
Play with friends on your own server.
Why should you choose us?
Instant Setup
Your 7D2D server will be automatically installed, set up, started and ready for you to play in less than 3 minutes after you have completed your payment. Instant hosting applies also to popular ModPacks. We offer 1-click setup for Darkness Falls, War3zuk.
Great Value
Mods, Control Panel, Telnet, DDoS Protection. We have a small 8-slot hosting plan and we charge < 50 cents per slot. Hell yeah!
Full Game Configuration
In our custom-built panel for 7D2D we expose most of the configuration parameters available in game files. Manage your settings in panel and have them instantly applied.
DDoS Protection
7D2D.NET servers are protected against DDoS attacks by our hosting provider. Enjoy the game and don't worry about DDoS attacks anymore!
Telnet
Run commands via telnet protocol or in Control Panel. You can choose to use RAT too.
Strong Hardware Specs
We host on Intel Xeons with 192 GB RAM dedicated servers with Linux. All to make your experience smooth and flawless.
Fast and Stable Network
Our network is fast and stable. We rely on premium hosting providers. Your games will never lag.
Refund Policy
If you don't like the hosting service that's ok. We will refund you. Please leave some message and tell us what you didn't like. We want to improve!
File Management
Use File Manager in our Control Panel to manage files on the server.
Excellent Support
We are new and we care for everyone of you. Regardless of the plan. We are one bunch with you, so anytime there is an issue reach out to us on Discord and we will help you out.
We've invested a lot of our time making
your multiplayer gaming experience amazing.
Hosting a 7 Days to Die with us gives you more than just a custom control panel, backups of your config files, game files management, FTP access, settings editor, mod/modlets and modpack loader, top-tier DDoS Protection, friendly support, and much more. Our prices are extremely affordable and most likely the best on the market. Many people are struggling to believe you can get a fully working Darkness Falls 7DTD server under $10!
How does it work?
After your order is placed, you are signed up. Once your payment is completed,
7D2D.net hosting automation starts deploying your 7 Days To Die server and keeps
it available online 24x7, even when your home PC is off! Our custom-built 7DTD
control panel allows you to manage and configure your 7DTD server, upload
and download files using File Manager, install mods, send commands and add additional
admins. Once a change is made to game config it's instantly applied to your
server. You can see at any time what is going on there.
See more details.
Public Servers List
We maintain a Free Public 7DTD Server List. You can add your server there for free
and promote it. The list contains best 7D2D pubilc PVE/PVP servers worldwide.
Many countries, versions and maps. Servers are being monitored and ranked based
on availability and popularity.
Our Hosting Locations
Currently we host 7DTD dedicated servers in North America (Canada/Montreal, US/Portland), Europe (Germany/Frankfurt and France/Paris) and Australia (Sydney).
If you need our hosting at your spot, please let us know.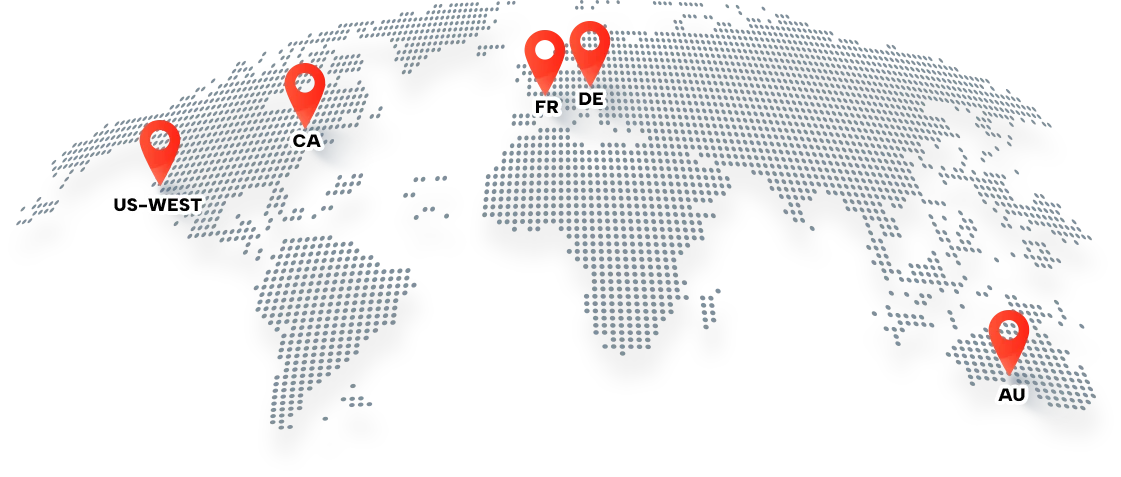 Testimonials
Went through a few options with servers for 7 Days to Die, finally found one who was quick to help me. Well worth the price! I have already upgraded my server plan because I have more friends joining me than I thought would. Really appreciate everyone behind here making magic happen! (:
Heather Bunn
Solid hosting and responsive support. I use the server for streaming vanilla gameplay with multiple users (from around the world) using Twitch integration. Canadian server
Map size 8k
max 16 players
Any questions or concerns I have are usually hashed out within an hour through their discord. Price is fair, latency is low
FknDonnie
Your hosting service provides an incredibly low price-point from my perspective, with the trade-off being I have less control over how it runs. I think you all handled the 19.6 upgrade very well and very quickly, which reinforces the idea that the low price-point is less about providing reduced/inferior support and more about providing thoughtful, targeted reduction of access/customization in support of eliminating common problem areas. see more.
Jonathan Robertson // Kanaverum
Super easy setup and configuration. Adding the ability to easily set up the darkness falls mod makes it a fantastic server hosting service.
Kevin Y.
Love the servers, so easy to configure and add nice things like mods to intensify the game and make it more fun for my friends and I to Stream. Would recommend these services to anyone!
BigTexGaminGG
A+ support. The team at Supercraft was very helpful in resolving a couple issues I had with getting my custom map and world set up on their hosting site. The team was responsive and helpful through their discord server. I look forward to continuing my hosting service as they expand their world customizing features! Would recommend. Very reasonable pricing packages, user-friendly web-interface.
Eric
I rent a dedicated 7 Days to Die server hosting via 7d2d.net. No lags, etc. Web panel is great. Support on a Discord channel is awesome.
Maciej
Server is running great. Price is reasonable. Questions answered quickly. Couldn't be happier.
Ken L.
Best bang for your buck! Price, and ease of use make this hard to beat.
customer
Excellent Game servers hosting. Best I've ever used !!!!
Jason Scott
Great server host, no lag. Perfect for gaming with a couple of friends.
XBIGJOHNQCX
Very easy user setup. No headaches at all.
customer
Great hosting service indeed! Server has never crashed and support always gets back with you! 4/5 cause I believe nothing is perfect and can always improve ☺️
customer
It's awesome to have server to play on and the setup was quick and easy.
customer
Great hosting service! Easy to use and setup 7 days to die server. I initially had a few issues, but the support team was extremely quick to help and solve the problems. Highly recommended!
customer
Got this for hosting 7dtd modded (Darkness Falls). It is very fast - melee works very well, unlike other providers I tried before, and we had no problem so far.
Nick
Great customer service and helpful support. I would use again. I'm running 7day WAR3ZUK launcher mods.
Derailed
Leasing this server to play with a friend has been a great experience. Support is very responsive and prompt. I heartily recommend.
Customer
I was able to setup my 7D2D server with an upload from my old server. It works perfectly! The old server was just my own system, but now my friends and I play without any issues. As we were able to load the files we didn't have to start over! It's been great! Thank you!
Customer
Awsome service. I just wish i could modify the files without having to download a backup editing it then loading the backup online.
St-Martin
Great service! I was very happy with this host. My whole family and friends are going to be playing New World. So, unfortunately we won't be playing. I will definitely be using this service the next time we play. And I will always recommend this. I have used multiple sites and this one blew them all away
Customer
Great hosting and works well. It's ice to finally have found a great service. Hopefully they fix the issue where I got the server as 19.6 alpha but it some reason gave me 19.5 but other then that little glitch its well worth the money I'm paying. Chwers
Paul Jensen
Never had my own server set up but this was easier than I imagined, the customer support is quick and friendly. At a competitive price can't ask for more!
Stacy T
Your service and server hosting and the control panal all looks amazing and operate as fine as it should be ,i am canceling the subscription just because we are not gonna play the game for a while , also one more thing if you guys can add more modpacks it would be amazing , something like zombiedayz or undead legacy mod pack , that's all. Thanks for the great server and the perfect service.
Customer
Great hosting service, I've been renting from them for 4 months now with no issues. Have yet to try using mods on my server but I did use Darkness Falls for a month and had no issues. Highly recommend.
Customer
First time rent a server for gaming. So easy and simple to use. Even dont need tutorial. All in one with several clicks and its done. Ofc gonna rent again to keep my gameplay with my friends because the ping is so damn low. It worked very well.
Customer
Hey thank you for the 7D2D servers, i've had a blast playing on it and your control panel is so easy with one click modpack installs and easy to use interface for the newest server administrators.
Psychosis Prophet
I am a total nube but it was quick and easy to get a server running. Played a day horde night with my son and granddaughter in no time at all.
Boompa
Hello, I wanted to send a message as a guy who has been a network admin for 15 plus years, your service is absolutely fantastic and cheap as hell. It was so easy with the tutorial to upload my 7d files to the dedi and fully manage it thru the slick web ui. Keep doin what you're doin y'all. Cheers.
Ian E.
Welp, Im now a proud renter of my own 7 days to die server. Very Pleased so far. Easy and quick to set up and get started for noob like me, would recommend to other's
MikeyMike248
The server was up and running in seconds, easy setup, easy Mod setup. Server has been running, as MK would say it Flawlessly. Very happy.
Eric
A great 7d2d server host! Servers are low-cost, and the support is great. You need absolutely no IT/Linux/Server -knowledge to get started, and the ease of configuration blew me away. I just paid up, and literally within minutes I was able to connect with my friend. We noticed we had some unwanted settings, so I logged in to admin panel, few clicks and our server was configured the way we liked it. Their support is really active in discord, and usually you'll get answers within minutes. Heavily recommended!
La Hex
Not really much to say other than it's probably the cheapest host for 7 days 2 die. Almost 1 week into my server and I've had no issues yet.
dylan952008
Service was great. Easy setup with a lot of configuration options. Very easy to cancel as well. Never experienced downtime or lag.
Lawrence LoSchiavo
Simply amazing fast setup and cheap had no issues would reccomend
Scott Arthur (ToxicSpectra)
Other than the odd latency issue, particularly when the action gets hectic, the server has been wonderful for our group. Will definitely recommend. 🙂
It's pronounced zed.
Excellent server so far with no issues at all. They are priced well and the server functions as expected. Have not needed to contact the staff for any reason.
grimcreaper
Hey everyone. Just an update on my server experience thus far. At first I was having some minor issues and thought. Yup, low cost low performance and was getting negative. Within 24 hours, the server was up and running on Darkness Falls Large Map. Which if you do not know is a 12k map. So of course, in the beginning it was smooth. I thought for sure, as we built more structures and mining and the like , that the performance would degrade to the point of unplayable. To my delight. We have gotten to the final quests of DF and the Lab. We have full Laser tech and huge underground and above ground bases. The server has some normal, slowness at certain times. Such as when you are in a confined space with 60 Zombies throwing fire at you and all of the spitters making life miserable. It is more than playable. So to end this. For the price, this has been a fantastic experience and I did not have to pay the stupid over the top prices other hosts charge for the RAM and such. Very pleased thus far. Now going to give Sorcery a go here.
Durazell
Very Easy to use. Love the simplicity. UI looks great too. Some minor mis-naming errors when dealing with file deletions. FAQs could be a bit more detailed for those with no experience. The Chat system (FAQ help robot) is actually very good and can answer things really well.
Koz
Supercraft has been a great host. I'm running my second 7d2d server now. Installing server-side mods, making config changes, and backing up worlds has been simple.
Scott
This host is probably the best host I ever had there is nothing to say bad about them the only suggestion I have if u could add support for server tools in the future that will probably make the best host on the market for 7dtd with out question, thank you .Never run out of resources.
Ilie Scodrea